By Dzign Acquires Epic Event Rentals (Formerly Classic Party Rentals – Las Vegas Office)
Las Vegas, Nevada, April 3, 2018 – By Dzign announces its acquisition of Epic Event Rentals formerly operating as the Las Vegas division of Classic Party Rentals.
As part of By Dzign's continuing expansion in the event and entertainment industry in Las Vegas, the procurement of these assets will further accelerate the company's business growth to better serve both new and existing customers in the Las Vegas event and tourism industry.
Through this acquisition, By Dzign secured an extensive rental inventory, assets and contracts building on By Dzign's already growing party rental division. In addition, By Dzign will now exclusively represent and distribute the "Chameleon Chair®" brand throughout the Las Vegas market.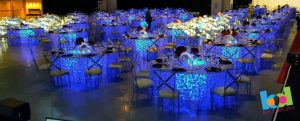 Angela Williams and Stephanie Gaspar are champions of Epic Event Rentals and Chameleon Chair® products and will be moving forward with the By Dzign team. Their stellar dedication helped transition inventory and retain outstanding staff members. Kevin S. Kraft – CEO and
Founder of By Dzign said, "It is incredibly exciting to get such a conscientious team and a trend setting product in the Chameleon Chair®."
A significant focus for the Las Vegas office was couture party rentals led by the Chameleon Chair®. "We plan to continue with the vision of high-end quality products and exceptional service," said Kraft. By Dzign will be adding new items to an already solid event rental line.
This deal adds a considerable amount of new inventory and capabilities to the By Dzign brand. In addition to expanding existing rental items such as chair inventories, heaters, chargers, linens, tables, etc…. and the addition of the Chameleon Chair® options, By Dzign now offers tents, flatware, glassware, china, staging, catering equipment and more.
Throughout this transition, By Dzign's number one goal is continuity. Kevin Kraft said, "we want our existing partners to experience a seamless transition and know they will receive the utmost quality and continued service to their program needs. Moving forward, we will focus on raising that bar by further expanding our inventory and adding new styles."
For further information please contact:
Nancy Rodriguez
COO at By Dzign
O: 702-684-7300
C: 702-659-4623
E: nancy@by-dzign.com