WE ARE HERE TO WOW!
By Dzign makes your event goals our event goals!
By Dzign
By Dzign is a full service event planning company. We specialize in corporate event planning and management, we design, coordinate and manage all of your event or meeting needs. By Dzign is based in Las Vegas but we travel the country creating and implementing magnificent events. We walk you the client through the entire process of planning your event or meeting. Our team of professional event and meeting planners are here to guide you so we can exceed all of your expectations.
Our Process
We start by listening to you and understanding your goals wants and needs. Our team then goes to work conceptualizing your event. Our creative team will lay out your theme or concept and present it to you in a digital rendering. Our design process includes budget management. We are able to meet budgets because By Dzign is your one stop shop for all your event needs. We have one of the largest event rental inventories in Las Vegas.
Started
Our full service mentality and capability shows in all the departments we have under one roof. We offer these listed services. Party planning & design, Large format Digital Printing, Graphic Design, Event Design rendering and CAD, Floral Design and production, Entertainment production & design. Prop rental and Fabrication, Furniture design & rental, Linen design & rental, Décor design & rental.
Our Motto
By Dzign started in 2008 by Kevin Kraft. Kevin was at The Ritz Carlton Hotel company before he started By Dzign. His goal when starting By Dzign was to create a first class event design and party rental company that was service oriented with a focus on quality. Kevin used his management skills to form a creative team that Las Vegas did not have until By Dzign. Our motto is, we are here to Wow!
We specialize in corporate event decor rental, design, and creation. Decor By Dzign is based in Las Vegas but we service all 50 states. We started in the event decor rental business in 2008 and have been mastering the art of special event design and decorating ever since.
Read more →
Rent Chameleon Chairs® exclusively at By Dzign Las Vegas. Choose the perfect chair for your event, wedding or party. Chameleon chair® offers thousands of chair rental combinations in Las Vegas and By Dzign is its exclusive event rental partner.
Read more →
Balloons Decor
Need spectacular balloon creations in Las Vegas or anywhere in the United States? We provide custom and traditional balloon creations for all events, parties, celebrations and trade shows. Our balloon designers will consult with you on your balloon needs, visions and dreams.
Read more →
By Dzign's flower artistsans are always working to create the most unique ideas for special events and because Event Floral is an essential and significant part of the special event industry, Floral By Dzign was created.
Read more →
Can't sleep because you are thinking about how to create a captivating party? Don't worry. By Dzign Game Rentals Las Vegas has produced and managed events in more than 30 US cities as well as Canada, Japan and Jamaica.
Read more →
Event Printing
Event printing in Las Vegas is done at By Dzign! Messaging is and always will be the engine behind any event and graphics through print is the way to convey. By Dzign added a print department to our services more than 10 years ago because we realized that printing for events is different than regular printing.
Read more →
Furniture By Dzign was created in 2008 when we realized our corporate, social and wedding clients needed unique soft and hard seating options for their parties.
Read more →
Prop rentals in Las Vegas are an essential part of our thriving event industry. By Dzign has been renting props in Las Vegas and nationwide since we opened our doors in 2008. Prop rentals, prop design and prop construction are in our DNA.
Read more →
Weddings By Dzign is a unique boutique for all of your wedding planning and design needs in Las Vegas. Our team of wedding coordinators floral & decor designers are not typical.
Read more →
Linen Rental By-Dzign has produced and managed events in more than 30 US cities as well as Canada, Japan and Jamaica. it prides itself our commitment to quality and attention to detail.
Read more →
With every entertainment act booked, he was able to offer up sound and lighting services to compliment the entertainment and became well known for not just being an agent, but for putting his stamp on every entertainment piece with his sound and lighting elements.
Read more →
Entertainment sure has changed over the years, with DJ's being everywhere these days at the Casino Pools to the nightclubs and corporate parties, DJ's make Las Vegas the place to be! Bands can be found in lounges and in showrooms as well as corporate events.
Read more →
Blog
Event Planning Las Vegas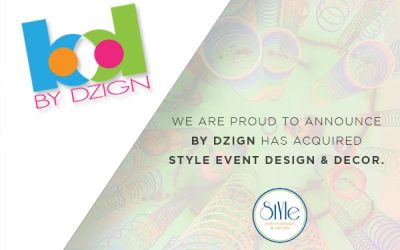 By Dzign Acquires Style Event Design Las Vegas, Nevada, October 10, 2019 – By Dzign announces its acquisition of Style Event Design which operates in Las Vegas. As part of By Dzign's continuing expansion in the event and entertainment industry in Las Vegas, the...
read more
Eliyahu Davidowitz
10-11-2019
Entire team is awesome 🙂 Everyone is pleasant, flexible - first class service.
Dovid Kitainik
10-11-2019
We had a great experience with By Dzign. The staff was really great to work with. (Thank you Penny!) They worked hard to get us what we needed for our event and were very nice as well. In addition, they responded very quickly to our questions and were very flexible with accommodating us. Well done!
Francine Sanchez
09-17-2019
Hosting a charity event that is closely tied to peoples heartstrings is stressful- but walking into a room that ABSOLUTELY blows your mind helps calm some nerves!! Kathy and her team at By Dzign turned the ballroom into an experience!! The tables, teapots with flowers, linen colors/choices, specialty tables - just WOW WOW!! I can't say enough about how the room made you feel, the stage/podium was a masterpiece where EVERYONE wanted to take photos. All morning people raved about how stunning and classy the event was. The 'themed look' set the tone for a successful day and I couldn't be more grateful. Thank you By Dzign!!!! We will see you next year!
Kara Hiscox
08-15-2019
A huge thank thank you to Penny and the By-dzign team for the beautiful decor you installed for our wedding meal on 1st August at The Barrymore. The room looked absolutely stunning, better than we could've wished for, and I cannot thank you enough for dealing with all my Bridezilla my questions pre-event!
Lauren Crist
07-31-2019
I used By Dzign for my corporate event planning in Vegas. The quality of their staging, lighting and furnishings are the best in the city, after comparison against many other vendors for the same services. They staged the room and sent photos, were quick to make changes, and were hands on when I needed assistance or had any questions. I highly recommend By Dzign and will use them again when coordinating events in Vegas.
Jimmy Gleich
04-01-2019
Working with By Dzign was very easy, the team took our thoughts and inspiration and built our props from scratch and they looked exactly as we wanted them too. We even had to make some 25th hour adjustements and the team came through faster than any vendor I have ever used. Thanks to everyone who made our Prom a success.
Jackie Fisher
12-27-2018
I have used By Dzign for multiple events and love them. They are easy to work with, have great prices and good items. My events range from 100-4800 people and I know they will always have what I need. Thank you for the great service. I look forward to working with you on many more events to come.
Jiselle Tejera
11-06-2018
Our events always look incredible when we partner with By-Dzign! They are so easy to work with and the entire process is worry free. Their staff works so fast and is always incredibly kind. Overall, By-Dzign is an amazing company that we thoroughly enjoy working with on our events!
Dawn Jenn
10-10-2018
By Dzign was amazing! The quality of product, the skilled planning, the pricing - all top of the service scale. The team was interactive, offered great suggestions and made our vision come to life! Thank you By Dzign for helping us make our dream come true!
Lauren Magnan
10-01-2018
Lucia and her team were amazing. My husband and I chose to do a destination wedding, but we would not have been able to do it without the By Dzign team. They were helpful every step of the way and made everything easy.. I am an extremely indecisive person and I was feeling very overwhelmed. All I had to do was show a few pictures of what I wanted and they made it all happen and surpassed my expectations. They know what they are doing and the outcome was phenomenal! I cannot commend Lucia enough! Thank you so much for giving me the wedding of my dreams!
Melissa Schellberg
08-28-2018
We couldn't be more thrilled with By Dzign. The process was incredibly easy and they truly made my wedding vision come to life. We hired By Dzign for all flowers, chairs, centerpieces, signs, linen, and lights. It makes it a lot easier to have one company offer everything limiting the number of total vendors I had to work with. Lucia was amazing to work with. She is maybe the kindest person I've ever met and was supportive of everything I wanted. She responded quickly to email and was organized. Early in the process before we signed our contract, Lucia did a mock-up of a table for us so I felt really comfortable signing on the dotted line. Our wedding planner was able to work with Lucia and her crew to ensure everything was perfect for the day of. I also appreciate that she was willing to reuse flowers and other items from the ceremony for the reception to save me some money. Overall, amazing customer service and product with competitive pricing. Can't think of one bad thing to say about this company.
Amrita Vaswani
08-06-2018
By-Dzign provided us great floral decor and lighting as per our vision. Kaitlin was awesome to work with. Definitely would recommend them to friends and family.
R. Martino
07-30-2018
Everything By Dzign did for our wedding turned out absolutely beautiful. They really made the process easy. I showed them pictures of what I wanted, and they just made it happen! What's so great is that florals and rentals all come from one place. So you don't have to work with a florist and then coordinate with a different rental company to provide centerpieces. They make beautiful arrangements and have everything for decor all together. They also set up and break down everything, which was so great and I didn't even have to think about it. Thank you for creating our dream wedding!
Becky O'Gara
06-07-2018
I was introduced to Lucia at By Dzign through our wonderful wedding coordinator, Paulina Clute. I had a very specific look that I was going for when it came to wedding flowers, and up to that point it was hard to find the florist that got it. I wanted to stray from what was trendy (muted pastel tones) and go for something different (bright colors and desert blooms) and a number of other places sent us back proposals that just didn't fit my vision. After sharing a pinterest board of flowers I had saved with Lucia, she took no time at all to put together a proposal and I was floored by it! Not only was everything on par with what I was hoping for, but they also were able to do it within my budget! One of the big issues I had with finding a floral and decor vendor was finding someone that would do balloon arrangements. Either it would be ignored, or it would cost an exponential amount of money. When I shared my thoughts on having some fun, big, colorful balloons at our wedding, the By Dzign team knew exactly what we wanted, and really delivered on the day of! I loved all the flowers that we had, and kept my bouquet as long as I could. I even replanted some of the succulents that Lucia used in our arrangements. And my husband will corroborate this story, but I cried a little when I had to throw out my bouquet. Everything was stunning.
Alexa Reveles
05-08-2018
Lucia was absolutely amazing!! She helped me out with everything I needed and also responded back right away!! She made my day even better than it was and I was so lucky to have her!!
Kevin Borillo
04-16-2018
We chose Wedding by Dzign as our florist for our wedding. Our professional florist designer was Lucia and her co-worker Hannah. When we went in for our initial meeting she worked with my wife to grab pictures from her pinterest and ask for the colors and flowers she liked. When choosing flowers it is hard to see how they are going to turn out at the wedding because at first it is only just an idea. Well when we walked into the reception area and saw our flowers for the first time our jaws were on the floor. Lucia and her team created the most beautiful flower arrangements. Our guests could not stop talking about how gorgeous they were. We would work with Lucia and her team again and can't wait to see how they turn out in our wedding photos!
Ashley Wallace
04-11-2018
Kaitlin from by dzign was SUPER amazing! I can't even begin to tell you how wonderful she was with our planning, rehearsal and actual wedding at The Smith Center. Girl knows how to rock a schedule like no ones business! She is always calm and managed all of our vendors and guests with poise and style. We cannot thank her enough for everything she did - you are THE BEST!
Stephanie Espinoza
03-29-2018
Lucia was very kind and helpful throughout my wedding planning process, especially on the rehearsal day and wedding day. We greatly appreciated how she was able to give us a quote based on our ideas and then adapt the quote to our specific needs. On the wedding day, all my decor was taken care of by the Weddings By Dzign team. My backdrops and bouquets were beautiful. Everything was so well coordinated. Thank you Lucia!
Stephanie Dahl
03-23-2018
The whole team was amazing and the flowers were beyond beautiful!
Ilana Shapiro
03-17-2018
Penny was incredible! Everything to the last detail was nothing short of perfection. By Dzign is professional, easy to work with and exceeded all of our expectations. As a gala committee, we were not the easiest to please, and Penny pleased every one of us. By Dzign elevated our gala to levels that we never thought were possible. I highly recommend By Dzign to anyone looking to plan the perfect event.
sonney vogel
03-15-2018
By Dzign was a great company to work with. Lucia and Greg were fabulous. They really understood my vision and made it come to life. They have amazing decor and put the entire package together to make it very easy to party plan! They were very hands on and professional. I would highly recommend them.
Pete Tsolis
01-22-2018
Their team was very friendly and easy to work with. The decor was beautiful and it really helped our event shine compared to previous years.
Christine Ayton
01-17-2018
Thank you for always being so amazing to work with and so flexible on such short notice! You are an amazing team!
Keris Kuwana
01-17-2018
They were on time, and gave me instructions on how to use the glow cubes. My event went off without a hitch!
Kylene Kemple
01-04-2018
ByDzign made our New Year's Eve event easier than ever. They came and set everything up on the 30th, which allowed me to come in later NYE and not have to be at work all day. They were punctual which is always appreciated. Lucia worked with me on months for this event, and came back with competitive pricing, which is what ultimately lead me to booking them over the other companies I was getting bids from. Lucia even came by herself to make sure things were going well. I will definitely be going to them again for bids next New Year's Eve.
Teresa Tolins Hamburg
01-02-2018
I'm a returning client of By Dzign. I used them for a Thanksgiving party at my home. As always they did a fabulous job. Installed and set up everything perfectly and came back a couple of days later to do the break down and take everything back. I definitely recommend their services as this company is extremely professional. Ask for Lucia - she's fantastic.
Kalika Johnson
12-21-2017
It was an absolute pleasure to have worked with Weddings by Dzign. My husband and I had destination wedding which can be very stressful. Fortunately, it was not. Every vision I had for our wedding, was executed precisely. They are extremely responsive to messages. They payed very close attention to detail and overall were very professional. Last but not least, they were also affordable. I would 100% recommend this company and would use this company again for any event.
Alexandra Hampson
12-19-2017
Lucia and her team really went above and beyond for our wedding. We were so happy with how everything came together. By Dzign really made planning from a distance (we live in Canada) easy- Lucia and I had a shared Pinterest board and she drew inspiration from there when making our proposal. Flowers are a pricey part of any wedding, but I really felt like we got our moneys worth with this company!
Christina Dominguez
12-13-2017
They are always amazing to work with!!!!
Shawndra Talaga
12-12-2017
The By Dzign team were so great to work with and did an amazing job turning the room into a Winter wonderland that my coworkers and I loved. I received so many compliments on how everything turned out. I can't wait to work with them again on my next project. Thank you Penny and By Dzign team!!
rick blake
12-08-2017
A great company to work with.
Mickey Norton
12-08-2017
By-Dzign is fantastic, you name it they can create it. I have used them numerous times for various events, every time it has exceeded my expectations and my guests as well. Kathy at By- Dzign is incredible to work with.. she communicates step-by-step, does everything on time and executes a memorable evening. You will never be disappointed!
Deanna Burgess
12-05-2017
The best décor company in town!
Amelia C
11-30-2017
We have had nothing but phenomenal experiences with By Dzign. Our relationship runs the gamut from colleague to collaborator to customer, and each time Lucia and her team have crushed the style game. As a colleague, we've had the privileged of working seamlessly and beautifully to bring a clients vision of her perfect wedding day to life. As a collaborator, we have worked hand-in-hand to create one of a kind inspirational looks for brides the world over to gawk at and swoon over. As a customer, By Dzign has taken our hand and made sure we had stunning linens, gorgeous floral, and snazzy furniture for our own company photo shoots as well as our live events. At every turn, it's a relief to know they are there to save us from ourselves.
Paulina Clute
11-28-2017
I was so happy to have By Dzign to handle the rentals and flowers for my company party. Lucia and the whole By Dzign team was just fantastic to work with. They assisted me in figuring out exactly what I should have, proposed it all beautifully and then followed up on the execution flawlessly. I look forward to my next opportunity to work with them.
Keri Macanas
11-28-2017
By -Dzign was so easy to work with. I sent our vision and they put everything together perfectly. They delivered everything to the site directly and were very punctual. From our Sales Manager to the production team, everyone is always professional.
Daniel Schneider
11-26-2017
Lucia at By Dzign was wonderful to work with, highly professional, and helped us visualize and design our dream wedding. The roses, centerpieces, and candles were gorgeous and they helped coordinate with the catering manager at Caesars Palace to provide floral for the wedding cake. Kaitlin was hired as our day-of coordinator and did an excellent job ensuring the entire event was seamlessly organized. Pricing was competitive and they helped us keep everything in our budget range. Would highly recommend the services of By Dzign for any event!
Alyssa Cooper
10-29-2017
It was a pleasure working with Lucia at By Dzign. She was able to incorporate my wedding theme and vision in a beautiful way, exceeding my expectations. She offered creative recommendations throughout the process. I wanted unique centerpieces, and she delivered! My theme included geodes, agates, and gems; geometric shapes with mixed metallics; purples and greens; and succulents. I received so many compliments on my centerpieces, and I was so happy with the final result!
Juliane Lischka
10-07-2017
We had our wedding dinner at The Barrymore. For decoration I was introduced to Penny from By-Dzign. We had a destination wedding and I was not able to meet Penny beforehand. I sent her some pictures from decoration ideas I liked and to explain here what I was looking for. However, when I saw our beautifully decorated table and the rest of the decor for the first time at the evening, I was speechless. Penny exceeded my expectations so far. Our table looked stunningly beautiful! She is very creative and have a great eye for the details!! I got so many complements for my decoration. I recommend By-Dzign to anyone. They are worth the money. It was a pleasure and the right decision to had By-Dzign for our decoration!!
Rebecca Greenberg
10-05-2017
By Dzign was absolutely amazing! Everything down to the last detail was absolutely perfect. In particular, Lucia was incredible. She was there whenever we needed her, answered all questions we had, made wonderful recommendations, and on the day of she seemed to be able to magically appear even before we knew we needed something. Highly recommended!
Kerry Sallee
06-06-2017
I always feel so lucky when I have the opportunity to work with the By Dzign team! Not only are they fun to work with, but they put together amazing event concepts that they always execute with perfection! By Dzign is truly wonderful; I happily and enthusiastically recommend them!
Jessica Impallaria
05-08-2017
By Dzign is the best event company, hands down! Recently we worked with Kathy as our event designer for UNLV's Annual Alumni Awards. The creativity of the By Dzign team allowed us to transform the lobby of Ham Concert Hall into a dinner space for 250 guests. The entire staff cares about their clients and the overall event experience. Their attention to detail shows from start to finish with the designers during planning to the onsite production staff on the day of the event. The quality of their work is unmatched and their decor pieces are gorgeous! Thank you for all your support of the alumni association and UNLV!
Rebekah Johnson
05-01-2017
What another amazing experience from the team at ByDzign! Thank you for all you do to make my events ROCK!!
Estephany Pierce
04-05-2017
We worked with Lucia and she was amazing to work with! We're both in the industry so it was very easy to connect with her and meet the deadlines. She was flexible with our schedule and really listened and understood what we were looking for. She took the time to pick out details that made sense for our wedding. The pre-planning phase was easy. The decorations and floral that they provided was absolutely stunning! Our centerpieces were a goblet type vase with flowers that complimented the rest of the table. And our sweetheart table and dessert LOVE table were the highlights of the wedding! She transformed our vision and made it ten times better. I would recommend ByDzign in a heart beat for any weddings or events. Their props and materials are in good shape and the team is very accommodating.
MacKenzie Burns
03-30-2017
Steve and the By Dzign crew were so great in helping to bring my wedding vision to life - I only wish I had found them earlier! Steve provided a ton of options that helped meet my needs for some unique decor - the furniture pieces I rented added both functionality and beauty to my reception. Can't thank them enough...I highly recommend By Dzign to any one in need of wedding/event/party planning services or design and decor.
Jen Zukowski
02-23-2017
A special thanks to Kevin Kraft and the By-Dzign team, our annual fundraising event was AMAZING! Every detail was carefully thought of from the planning stages to production, even including the event layout. We had over 300 people in attendance with a room capacity of 250, and By-Dzign made the layout still feel spacious. We are still receiving compliments of the jaw-dropping set up and the guests truly enjoyed the entire "vibe" of the event. Having a hanging marquee sign with our company name lit up in lights was the icing on the cake. With a celebrity guest in attendance, we couldn't of been more pleased with By-Dzign's hard work. The high top tables, mood lighting, signage, lighted displays, and everything else was all on-point. We were especially proud to see the joy on our sponsors faces when they saw the beautiful signage of their company's logos lit-up in the venue. By-Dzign's expertise and professionalism definitely kept implementation at ease and the stressor's of event planning at a zero. Special thanks again to Keven and his team for a job well done. I would recommend them to anyone. We look forward to working with them again.
Andres Zotea
01-26-2017
Our Christmas Party was an amazing experience! The games, the food, the gifts, the ambience. There was fun for everyone. The outstanding coordination and good levels of communication, within team, shows an impressive commitment to the quality on every Event. Thank you By Dzign
Joseph Pessin
01-25-2017
We recently had our daughter's bat mitzvah here in Las Vegas. We hired ByDzign for the decor and party planning of the event. To say that we were blown away would be an understatement. Their understanding of the importance of this event and the translation of that into reality was magical to watch. Our ideas were all over the place when we first met with the team. Because of the experience and over-the-top creativity of their team, we created a space that brought together music, tradition, food, and love. And we were able to share that with all our family and friends. ByDzign unequivocally made our event a success! The room was more spectacular, from the most visible features to the smallest of details, than we could have ever imagined. Kevin, Lucia, and the entire ByDzign Creative Team designed an environment that allowed our daughter to be a Princess...and we will be eternally grateful to them for having done so. We will remember this night forever! Nicole and Joe.
Michael Grodin
01-24-2017
The By Dzign team did an incedible job on my son's Bar Mitzvah. From the creative team, to the printing, and even their vendors are top notch. At the end, we were getting close to our buget so we cut out a few items. Wouldnt you know it, the night of the event, every thing we picked arrived and they didnt charge us the small amount that we went over. I was referred by a friend, and I will certainly tell everyone I know that By Dzign is the only company to work with for your special day.
CASEY FLAIR
01-24-2017
Kathy and Steve from By Dzign were incredibly helpful in the planning and production of our Heart N' Sole fundraising gala. They went above and beyond in all aspects of their support and made our party stand out. Thank you By Dzign for making our foundation and gala the best party in town.
Kat Miller
12-28-2016
I wish to praise By Dzign for the phenomenal job they did putting together my daughter's wedding….I couldn't have imagined a more beautiful day for her… We had the pleasure of working with Lucia Tovalin, By Dzign's in-house wedding stylist who tended to my daughter's every need…..she is truly a professional and her creative eye gave us just the right style we were looking for….. By Dzign's Linen manager, Ana Conde presented us a wide array of the most beautiful table linens while Gregg Hanson, By Dzign's Floral Manager, created floral centerpieces that took our breath away….. By Dzign's set-up crew are not only good at what they do, they are extremely professional, courteous and kind….. While wedding planning can be extremely stressful, our minds were put at ease by the caring individuals at By Dzign…… Thank you By Dzign….. Sincerely, Kathryn Miller
UNLV Finance Advisor
12-23-2016
By Dzign is fantastic! They have the best ideas to help create a stunning event, no matter what your budget. I have used them for several events over the past couple years. Their delivery and set up staff are professional and so accommodating. In fact, everyone I have worked with from By-Dzign, including the owner Kevin and my favorite designer, Kathy has been great. It's obvious they love what they do - it really shows!
I Teach Comp Sci!
12-14-2016
We are so grateful to Penny and the rest of the By-Dzign team. Our son's Rubik's Cube themed party was incredible. From the larger-than-life Rubik's Cubes that were almost as tall as he is to the personalized Rubik's Cube table signs. Everyone at By-Dzign that we interacted with went above and beyond our expectations. By-Dzign is the only company we would recommend for your next party. Thank you to everyone at By-Dzign for making our son's party the best ever.
Lauren Gates
12-12-2016
By Dzign has assisted me for several of my event planning needs and I'm always wowed by their service and design. When I have the chance to use them them i can relax because I know they make it all happen and I can be a guest at my party.
Toni Reiser
12-10-2016
So creative and easy to work with. Every detail is thought out with the client in mind. I love working w/this multi-talented group.
Joel Banchik
12-07-2016
As usual By Dzign, created a beautiful 40th birthday party for my daughter at Loews Lake las vegas. All of our guests were amazed at the ambiance that By Dzign created. My family and friends have no doubt that By Dzign does an amazing job. We look forward to creating many more wonderful experiences with them. They never cease to amaze me.
Sarah Paige
12-06-2016
As an Event Planner and Producer, I have been partnering closely with By Dzign for several years now and have had nothing but wonderful experiences. They know how to be a true partner for all of my events through their creativity and execution of my clients' and my visions. They always make it a point to provide cost savings and make valuable recommendations. I could not ask for a better partner on all of my events, small or large. Love their team!!
Alex That
12-01-2016
My experience with By Dzign has been fantastic. Being in the fashion business and doing trade shows in Vegas for a long time, we finally found a company that has everything we need, easy to work with, affordable, always on time, very creative with any budget. It's an absolute pleasure working with By Dzign. I highly recommend them.
Travis Keys
12-01-2016
By Dzign helped us create a huge corporate event and we couldn't have been happier! From the quality of the decor, to the professionalism of their staff, everything was perfect. They were able to take a concert venue with an industrial feel, and transform it into a high-end and super unique venue. The use of our corporate color scheme and design elements was subtle, but made the venue feel like it was custom-built for our company. We do many events in Las Vegas every year, and this was probably the most worry free event that we've done so far. Thank you everyone at By Dzign!
Saville Kellner
12-01-2016
By Dzign are famous for under-promising and over-delivering time and time again. We have done events from as few as 10 people to as many as 600 people and By Dzign delivers perfection every time. They are simply amazing. Their passion for your event is unparalleled.
Willavy Albana
11-15-2016
ByDzign made my wedding beautiful! Lucia was easy to communicate with and fulfilled my dream wedding perfectly! I would definitely recommend them to any bride!!
Dorie Beacham
09-03-2013
Having partnered with the By-Dzign team on dozens of events over the last 4 years, I can say that they are one of the most creative and professional teams to work with. Their wide array of stock and ability to produce custom items upon request allow one stop shopping and make my job easier.
Have a project or an idea?
Please get in touch!
CONTACT US
 
5625 S. Arville St., Suite E Las Vegas, NV 89118
Phone: 702 684 7300
Email: contact@by-dzign.com