WE ARE HERE TO WOW!
By Dzign makes your event goals our event goals!
By Dzign
By Dzign is a full service event planning company. We specialize in corporate event planning and management, we design, coordinate and manage all of your event or meeting needs. By Dzign is based in Las Vegas but we travel the country creating and implementing magnificent events. We walk you the client through the entire process of planning your event or meeting. Our team of professional event and meeting planners are here to guide you so we can exceed all of your expectations.
Our Process
We start by listening to you and understanding your goals wants and needs. Our team then goes to work conceptualizing your event. Our creative team will lay out your theme or concept and present it to you in a digital rendering. Our design process includes budget management. We are able to meet budgets because By Dzign is your one stop shop for all your event needs. We have one of the largest event rental inventories in Las Vegas.
Started
Our full service mentality and capability shows in all the departments we have under one roof. We offer these listed services. Party planning & design, Large format Digital Printing, Graphic Design, Event Design rendering and CAD, Floral Design and production, Entertainment production & design. Prop rental and Fabrication, Furniture design & rental, Linen design & rental, Décor design & rental.
Our Motto
By Dzign started in 2008 by Kevin Kraft. Kevin was at The Ritz Carlton Hotel company before he started By Dzign. His goal when starting By Dzign was to create a first class event design and party rental company that was service oriented with a focus on quality. Kevin used his management skills to form a creative team that Las Vegas did not have until By Dzign. Our motto is, we are here to Wow!
We specialize in corporate event decor rental, design, and creation. Decor By Dzign is based in Las Vegas but we service all 50 states. We started in the event decor rental business in 2008 and have been mastering the art of special event design and decorating ever since.
Read more →
Rent Chameleon Chairs® exclusively at By Dzign Las Vegas. Choose the perfect chair for your event, wedding or party. Chameleon chair® offers thousands of chair rental combinations in Las Vegas and By Dzign is its exclusive event rental partner.
Read more →
Balloons Decor
Need spectacular balloon creations in Las Vegas or anywhere in the United States? We provide custom and traditional balloon creations for all events, parties, celebrations and trade shows. Our balloon designers will consult with you on your balloon needs, visions and dreams.
Read more →
By Dzign's flower artistsans are always working to create the most unique ideas for special events and because Event Floral is an essential and significant part of the special event industry, Floral By Dzign was created.
Read more →
Can't sleep because you are thinking about how to create a captivating party? Don't worry. By Dzign Game Rentals Las Vegas has produced and managed events in more than 30 US cities as well as Canada, Japan and Jamaica.
Read more →
Event Printing
Event printing in Las Vegas is done at By Dzign! Messaging is and always will be the engine behind any event and graphics through print is the way to convey. By Dzign added a print department to our services more than 10 years ago because we realized that printing for events is different than regular printing.
Read more →
Furniture By Dzign was created in 2008 when we realized our corporate, social and wedding clients needed unique soft and hard seating options for their parties.
Read more →
Prop rentals in Las Vegas are an essential part of our thriving event industry. By Dzign has been renting props in Las Vegas and nationwide since we opened our doors in 2008. Prop rentals, prop design and prop construction are in our DNA.
Read more →
Weddings By Dzign is a unique boutique for all of your wedding planning and design needs in Las Vegas. Our team of wedding coordinators floral & decor designers are not typical.
Read more →
Linen Rental By-Dzign has produced and managed events in more than 30 US cities as well as Canada, Japan and Jamaica. it prides itself our commitment to quality and attention to detail.
Read more →
With every entertainment act booked, he was able to offer up sound and lighting services to compliment the entertainment and became well known for not just being an agent, but for putting his stamp on every entertainment piece with his sound and lighting elements.
Read more →
Entertainment sure has changed over the years, with DJ's being everywhere these days at the Casino Pools to the nightclubs and corporate parties, DJ's make Las Vegas the place to be! Bands can be found in lounges and in showrooms as well as corporate events.
Read more →
Blog
Event Planning Las Vegas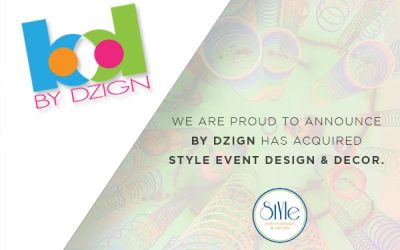 By Dzign Acquires Style Event Design Las Vegas, Nevada, October 10, 2019 – By Dzign announces its acquisition of Style Event Design which operates in Las Vegas. As part of By Dzign's continuing expansion in the event and entertainment industry in Las Vegas, the...
read more
Jo Kenn
11/27/2019
This was our first event in working with By Dzign, and they helped us put together an amazing event! We will definitely hire them again in the future and would recommend them for other events. Penny & her team offered exceptional customer service and provided our clients with some great choices. Plus her on-site production team was professional, knowledgeable and had a positive attitude.
Sam Kennedy
11/27/2019
Penny and her crew were great. My event was ever changing and she rolled with all of the punches. I have worked many events with many crews...they all were extremely professional and quick. All of my clients were very happy!
Eliyahu Davidowitz
10/11/2019
Entire team is awesome 🙂 Everyone is pleasant, flexible - first class service.
Dovid Kitainik
10/11/2019
We had a great experience with By Dzign. The staff was really great to work with. (Thank you Penny!) They worked hard to get us what we needed for our event and were very nice as well. In addition, they responded very quickly to our questions and were very flexible with accommodating us. Well done!
Francine Sanchez
09/17/2019
Hosting a charity event that is closely tied to peoples heartstrings is stressful- but walking into a room that ABSOLUTELY blows your mind helps calm some nerves!! Kathy and her team at By Dzign turned the ballroom into an experience!! The tables, teapots with flowers, linen colors/choices, specialty tables - just WOW WOW!! I can't say enough about how the room made you feel, the stage/podium was a masterpiece where EVERYONE wanted to take photos. All morning people raved about how stunning and classy the event was. The 'themed look' set the tone for a successful day and I couldn't be more grateful. Thank you By Dzign!!!! We will see you next year!
Kara Hiscox
08/15/2019
A huge thank thank you to Penny and the By-dzign team for the beautiful decor you installed for our wedding meal on 1st August at The Barrymore. The room looked absolutely stunning, better than we could've wished for, and I cannot thank you enough for dealing with all my Bridezilla my questions pre-event!
Lauren Crist
07/31/2019
I used By Dzign for my corporate event planning in Vegas. The quality of their staging, lighting and furnishings are the best in the city, after comparison against many other vendors for the same services. They staged the room and sent photos, were quick to make changes, and were hands on when I needed assistance or had any questions. I highly recommend By Dzign and will use them again when coordinating events in Vegas.
Jimmy Gleich
04/01/2019
Working with By Dzign was very easy, the team took our thoughts and inspiration and built our props from scratch and they looked exactly as we wanted them too. We even had to make some 25th hour adjustements and the team came through faster than any vendor I have ever used. Thanks to everyone who made our Prom a success.
Jackie Fisher
12/27/2018
I have used By Dzign for multiple events and love them. They are easy to work with, have great prices and good items. My events range from 100-4800 people and I know they will always have what I need. Thank you for the great service. I look forward to working with you on many more events to come.
Jiselle Tejera
11/06/2018
Our events always look incredible when we partner with By-Dzign! They are so easy to work with and the entire process is worry free. Their staff works so fast and is always incredibly kind. Overall, By-Dzign is an amazing company that we thoroughly enjoy working with on our events!
Have a project or an idea?
Please get in touch!
CONTACT US
 
5625 S. Arville St., Suite E Las Vegas, NV 89118
Phone: 702 684 7300
Email: contact@by-dzign.com